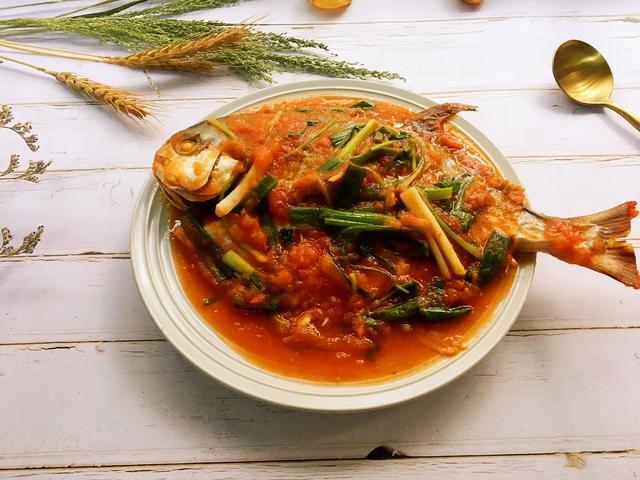 Ingredient:
1 (about 400 gm) golden pomfret (金鯧魚)
corn flour /corn starch (for coating)
3 tomatoes (cut into wedges and deseeded)
2 tsp Worcestershire sauce
20 gm brown slab sugar (roughly chopped)
2 stalks spring onion (sectioned)
3 tsp corn flour/corn starch
1. Wipe dry with kitchen papers. Season with salt and white pepper on both sides and inside the fish cavity. Lightly coated corn flour on the skin. Shake off the excess.
2. Heat oil in a non-stick pan over medium-high heat. Pan-fry the fish until both sides are brown. Cover and cook for about 2 minutes to make sure the inside is cooked through. Then remove the lid and cook until the skin is crispy. Set aside and keep warm with cover.
3. In the same pan, add oil. Saute garlic and tomatoes. Pour in the water. Add ketchup, Sriracha sauce, Worcestershire sauce and sugar. Cook until the sugar is completely dissolved and the tomatoes are softened. Stir in the thickening and cook to your preferred consistency. Add spring onion. Pour the sauce over the fish. Serve immediately.